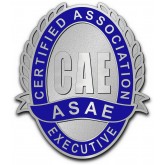 Interested in learning more about earning your Certified Association Executive credential?
Here's a great place to start!
 
Eligibility

Professional Experience/Tenure

3 years – Chief Staff Officer at a nonprofit or AMC; or
5 years – Staff level at a nonprofit or AMC; or
10 years – Employee, independent contractor, or consultant with professional involvement within the association community (5 years of such service if substantially all of your work is devoted to nonprofits or AMCs)

Bachelor's degree or up to 8 additional years of professional experience if no bachelor's degree

100 hours of qualifying professional development within the last 5 years preceding the application (note, for certification renewal, 40 hours of continuing professional development is required every 3 years)
Exam Dates
ASAE offers the CAE exam online during the first two weeks of May and December each year

Note, the exam cannot be taken for renewals
Exam Locations
The test is administered at scheduled test sites throughout the U.S., including in and around Indianapolis, and internationally at Scantron testing centers. Candidates also have the option of taking the exam from their home or other suitable location with a live online proctoring option (LOP).

For more information on the exam format and testing sites, visit ASAE The Center for Association Leadership
Application
Must be submitted, along with all qualifying professional development, 10 weeks prior to the exam; exact dates are published at ASAE

The exam must be taken within 12 months of submitting your application

Current application fees: $500 (ASAE members); $750 (Nonmembers)
Note: Renewal fees are $350 for ASAE members and $500 for nonmembers. Renewal fees are reduced to $275 for members and $425 for nonmembers if the renewal application is received by October 31 of the year certification is due for renewal. CAE Renewal Information
ISAE Resources to Help Prepare and Earn Hours
Pathway to Your CAE
Determine which Professional Experience eligibility applies to you
Track your CAE hours, keeping in mind that all hours need to have been earned within the 5-year period immediately preceding your application
Begin studying
Complete your application
Take the exam!
The exam is a four-hour, 200 multiple choice question exam

Results are sent to your home four to six weeks following the exam

 Download Pathway to the CAE as a PDF 
Please visit ASAE's CAE Certification site for additional details.