Microlearning as a Tool for Ongoing Professional Development
From Artisan E-Learning
As an association, one of the most valuable benefits you provide to members is ongoing professional development opportunities. From networking events and conferences to certifications and multi-module courses, you provide a wide range of opportunities to create more value for your members.
It's time to include microlearning in that lineup!
Microlearning courses allow a hyper-focus on one professional development skill to ensure members walk away from the course a stronger professional than when they began it. They're accessible, engaging, built for today's busy workforce, and more than anything, they're a great way to highlight crucial skills.
Let's walk through an overview of microlearning and look at two scenarios that will inspire you to add microlearning to your professional development offerings. 
Covering the Basics of Microlearning
When you think of microlearning, what comes to mind? Maybe you think of a longer e-learning experience that's "chunked" into multiple modules that your learners can take in a short time.   Or, maybe you think of an extremely short e-learning course—as in, less than 5 minutes long—that provides an overview of a topic.
We've heard this a lot! We believe the heart of microlearning is more than that. When we define microlearning, we say:
"Microlearning refers to relatively short, focused course content with a single learning outcome."
The second portion of the definition is key. We like to say microlearning narrows the focus, rather than shortens the length, of a course. 
So, let's say you're training future leaders. Rather than providing a five-minute overview of all of the best practices for new leaders, a microcourse would focus on one tip such as assertive spoken communication. A microcourse isn't a best-practices guide; it's a single paragraph within that guide that's isolated from the others and explored in depth.
You'll discover so many benefits that come with using custom-developed microlearning courses in your association's professional development offerings. Microlearning allows you to:
Shine a spotlight on critical skills.

Focus on the information that's most important to your learners when they need it.

Align your offerings with what your learners are already conditioned to—short, focused learning experiences. Think YouTube tutorials!

 Offer practice and repetition, which improve knowledge retention for your learners.
Now, while microlearning has a variety of benefits, it's impossible to experience those perks if you don't use microcourses in your strategy. So, let's take this knowledge of microlearning and apply it to two scenarios for your association.
2 Microlearning Scenarios for Association Member Professional Development
Highlighting Necessary Skills
First, let's consider the scenario of bringing important skills—those learners may overlook in a more comprehensive course—to the forefront.
Let's say you want to help future leaders learn how to give effective feedback. You have a laser-focused objective and one they could use some practice with. This is a perfect opportunity to build a microcourse. 
We were tasked with creating a course to help school nurse professionals give feedback in emotional settings. Here are a few tips we found effective:
Give learners a chance to practice. In this case,we taught a simple formula for giving effective feedback, and then provided scenarios that allowed them to practice. Here are some tips for practice activities:

Vary scenarios so the member can practice in different settings (ex: a direct report, an external client, etc.) 

Vary the delivery method (ex: multiple-choice options, typing in a response, etc.). 

Try gamifying this practice by having each scenario represent a "level" and awarding points for correct answers.  There's no denying the benefits of gamification for members.
Include reasoning behind correct answers. If the member provides feedback correctly, why was the answer correct? If the learner provided ineffective feedback, what made it ineffective? Guide learners to understand where and how they can improve.

Include a "wow" moment. Drive home the importance of this skill by including a mindset-changing moment. For example, show the scenario play out—a direct report receives feedback, incorporates it into their daily lives, and is drastically more effective because of it.
The goal here is to emphasize the importance of the skill you're highlighting and make sure the member understands it through and through after taking the course. A short course doesn't mean a less comprehensive course!
Introducing New Developments
Now, imagine there's a new development in your field—something many of us experienced in 2020, or as some say, The Year of the Pivot. This could be a field-specific development—such as an emerging medical technique or sales philosophy—or a more general development that's applicable for professionals across many fields. Let's focus on the second idea, with the example of working from home.
While you wouldn't want to tackle the broad topic of working from home for a microcourse—remember, we want to focus on one specific skill—you could use a microcourse to highlight one aspect of working from home. Skills like setting up a home office, Zoom meeting etiquette, and tips for maintaining a work/life balance are about the right size for a microcourse.
Building off of the first example, here's how you could create an effective microcourse about setting up a home office:
Add a spark to your course with engaging formatting. A narrated video accompanied by photos of well-organized home offices can be, let's be honest, boring. However, a drag-and-drop game where the learner "designs" a home office can both convey the best practices and keep the member's interest. Check out the image below from a course in which learners design a room that abides by Feng Shui to see what we mean: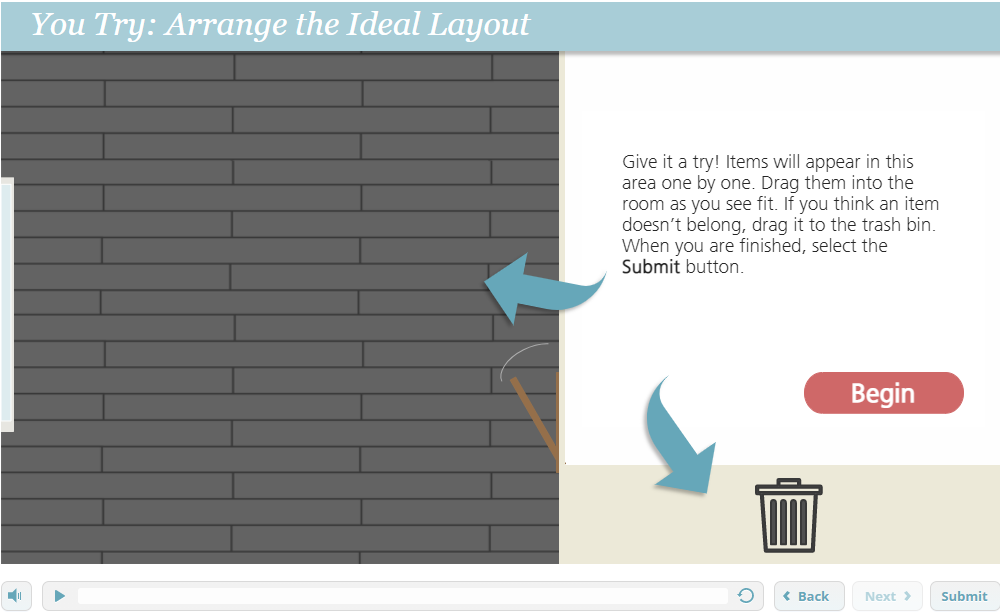 Focus on the most important information. Avoid including a history of what work was like before the transition, why organizations are transitioning, and more. Separate "nice to know" information from actionable, applicable content. Each moment in your microcourse should guide the learner to do something in their real life.

Use examples and images to show, rather than describe, new concepts. Let's say you're explaining the best way to set up a desk space and you land on the topic of computer screen placement. But, what do you call the screen extensions you use at your work desk? "Monitors" or "screens?" If you use an example image in your course when discussing the optimal way to position these tools, you can ensure that members understand the instruction (regardless of their preferred vocabulary).
Microcourses are the perfect option for introducing a new development that doesn't necessarily require a longer-form experience. Make sure topics are conveyed clearly and in an interesting manner to create a course that helps members learn and evolve in their professions.
---
When it comes down to it, these are just two applications of using microlearning in your association's professional development offerings. We could continue (but for sake of not rambling on—we won't).
When it comes to incorporating microlearning into your offerings, work with an e-learning content development company to discover where it can best fit in your lineup. And remember—narrow your focus, not your runtime!
Share this post: