Association Events: 3 Best Practices to Increase Engagement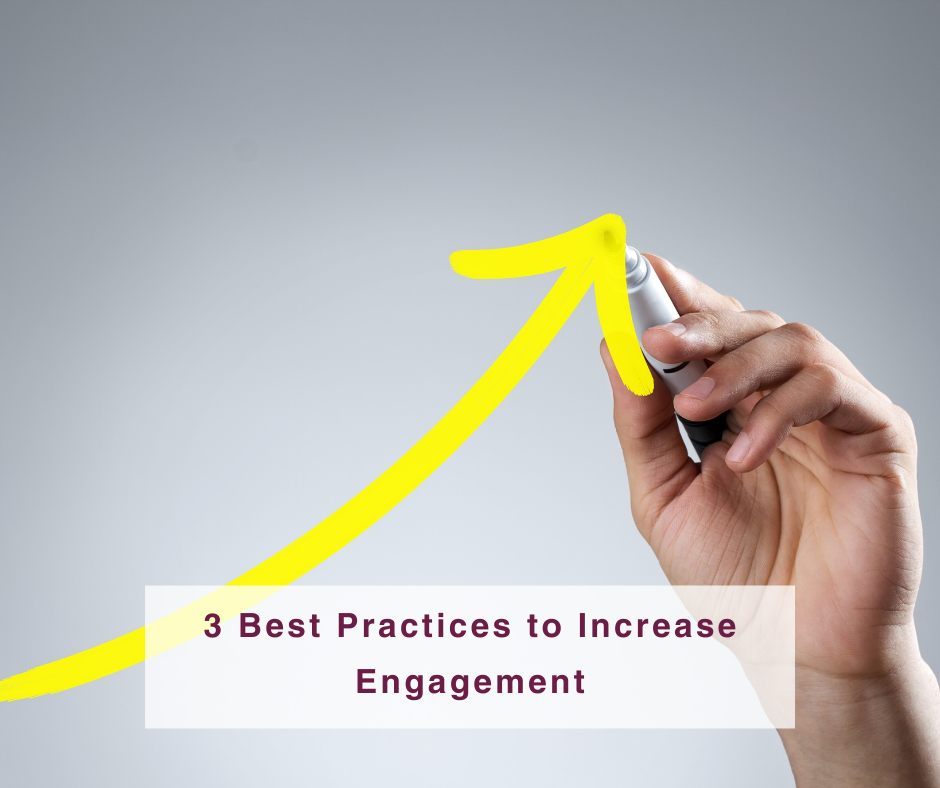 Events that bring your association's community together are a great way to bring your members together in an engaging and memorable way. Often, these events become recurring annual activities, giving your members something to look forward to every year, even during challenging times. 
The success of your association's events is always due to your dedicated management team that's working behind the scenes. If you're part of your association's event planning team, you likely already know the importance of creating an engaging experience that will keep members invested not just in your current event, but your association as a whole. 
To facilitate this, your internal operations should be streamlined and built to work together in order to pull off events with confidence. This can be done with effective event management tools to help you perfect your event registration process and manage your event team. 
Effective technology doesn't get the job done alone, though. You'll also need to leverage proven best practices for running more engaging events and providing an immersive attendee experience. Paired with the right management solutions, you'll increase engagement with your association's members by following these best practices:
Optimize your event registration form.

Facilitate a seamless event check-in process.

Easily manage and oversee your event data.
If you want to increase event attendance and get your association's community more involved and engaged, investing in event management tools can help you clean up your background operations and easily oversee all operations. But first, a great event needs strong, efficient internal processes. Let's get started.
1. Optimize your event registration form.
According to NPOInfo's charitable giving statistics report, member engagement is a top priority for associations, and half of association leaders feel that members fail to renew their memberships due to lack of engagement. 
This is why events are so important to many associations; they are a surefire opportunity to get members interacting with one another and participating in what your association has to offer. Of course, if you're brainstorming ways to increase your member engagement with your events, you first need to get your members to attend your event. 
This is where an optimized registration form comes in. 
Invest in event registration software that aligns with your association's needs. With the right software, you can customize the registration process and help each registrant hit submit on their form. Too often, people turn away from events they'd otherwise be excited about because the registration form was loading too slowly or took too long to complete. 
An efficient registration form also allows your event team to get all the pertinent information needed on their attendees. This ensures each person and their specific circumstances are accounted for, making overseeing event processes more efficient.
In other words, you need an accessible, inclusive registration form that caters to the unique needs of each member. Here are the features you should look out for:
Embeddable registration form. Your members most likely prefer to stay within your core website when registering for events. Don't send them to a third party site since this can make your form come across as untrustworthy. Embedding it into your site also ensures your branding stays consistent and allows you to supplement the form with additional event details from your website.
Conditional logic capabilities. A registration form with conditional logic capabilities will personalize the registration process for each individual. Based on the answers that registrants provide, the logic engine will prompt the form to adapt to the registrant. For instance, if a person marks that they have allergies, the form will expand to ask further questions—ensuring that there's no risk with the food choices. Some conditional logic will be so advanced that the system will automatically add fees or discounts to carts based on registration type. Additionally, conditional logic can also be "triggered" by certain registrant actions to add forms, products, or send emails in real time. 
Multiple registration options. Make sure your registration form can account for a variety of registration options, such as group registrations. Don't waste a registrant's time by making them manually fill out the form multiple times. Also, if your event includes a variety of activities, such as a multi-day conference where members can choose their workshops, let your guests form their schedules during the registration process. 
Event registration software can help you cater to your association's members as well as alleviate some of the stress on your event staff. As Regpack's event registration software page explains, a comprehensive event registration and management platform can provide more attendee oversight by ensuring guests' registration information is readily available, organized, and easily accessible.
2. Facilitate a seamless event check-in process.
During your event, having a seamless and efficient event check-in process is key to making sure that attendees and vendors are where they're supposed to be. Give your event team all the resources, training, and context they need to run your event smoothly. Ensure they can oversee and manage the venue, speakers, vendors, and attendees with confidence. 
As people are filing into the event, it's normal for there to be a bit of chaos. An effective check-in system will help facilitate the beginning of your event, ensuring that everyone is where they should be.
In addition to manually checking in attendees, consider creating a process that lets guests check themselves in. This ensures that entrances and exits aren't blocked, and if a staff member is needed for a more pertinent issue, they won't be stuck checking in crowds of people.
Additionally, it's helpful to give your event staff access to the admin back-end and search for event participants. Let them update registrant information, take a photo, or change the ticket status to reflect their membership tier, access level, or even the discounts they've used. 
No matter how thoroughly you plan your event, there's not much you can do to prepare for unforeseen changes. But with efficient event tools, you can handle changes to event plans with confidence. Don't worry if you have an overwhelming number of walk-in attendees—equip your staff with the ability to register attendees on the spot.
3. Easily manage and oversee your event data.
As we've mentioned, the key to planning and pulling off an effective event is to make sure your internal operations are streamlined and working together efficiently. In order to easily oversee all the moving parts involved in planning your event, you need the right event management software tools. 
With your registration process and event management processes streamlined and simplified, you're able to clearly see how the different processes work together. Make sure you have these features in your software solution:
Cloud storage. With all your data in the cloud, your event staff can access information on your event applicants whenever and wherever they are. As long as your team has a mobile phone, tablet, or laptop, they can view updated and accurate data points since information will constantly and automatically be backed up. Even while the event is occurring, your event staff can easily manage processes and view it in a navigable interface.
Effective reporting. Make sense of your event data by compiling reports to inform your team of any pertinent insights. With the right solution, you can customize the statistics you're interested in and generate graphs and charts to put your data in an easily understandable format. With event reports, your event team will be able to better plan the next event you launch. 
Data search filtering. Find tools that allow you to easily comb through your wide array of data. Use filter blocks to filter conditions independently of each other and then compare and contrast the results. For example, you might filter for attendees who paid with a credit card and for attendees who registered with a group. You can see the results side by side or seperate them. Additionally, the power to stack filter conditions and filter blocks lets you hone your search even further and gets you the specific data you need.
Streamlining these features will not only help your event planning team, but also provide additional value to your guests. With a systemized backend process, your team will be able to respond to guests' needs faster, identify potential problems and opportunities, and plan for an even better event experience next time. 
---
Making sure your association's events cater to all of your members' needs is always a tough feat. However, with the right event management software and strategies, you can simplify your operations. Give your event team the tools to work together and manage each moving part with confidence and ease. Good luck!
---
"
Asaf Darash, Founder and CEO of Regpack, has extensive experience as an entrepreneur and investor. Asaf has built 3 successful companies to date, all with an exit plan or that have stayed in profitability and are still functional. Asaf specializes in product development for the web, team building and in bringing a company from concept to an actualized unit that is profitable."
Share this post: