ISAE Partners With MPI Indiana, MIH to Host Successful Hybrid Event
Nearly 100 association professionals and industry partners/suppliers gathered both in-person and virtually for a unique hybrid program on Thursday, October 29 at the Horizon Convention Center in Muncie, IN. "Back to Business: Planning Live Events During The Pandemic" was a collaboration between the Indiana Society of Association Executives (ISAE), Meeting Professionals International's Indiana Chapter (MPI Indiana) and Minorities in Hospitality (MIH).
The purpose of this program was to:
A) Put meeting planners in the attendees' shoes by experiencing all aspects of an event with maximum socially responsible measures in place, or participating virtually while other attendees are in-person.
B) Demonstrate the necessary adjustments that venues and hospitality partners have made in order to successfully host in-person events.

C) Provide clarity and insight on legal considerations for hosting in-person events, health/safety best practices and more.
From masks and socially-distanced seating to no-contact hors d'oeuvres and speakers wiping down microphones after they spoke, all necessary protocols were in full effect.
The program featured an expert panel that included:
Carol McCormack, Senior National Account Manager, Maritz Global Events
Jody Clevenger, Director of Operations, Horizon Convention Center
Dr. Virginia A. Caine, MD, Chief Medical Officer, Marion County Public Health Department
Barbara F. Dunn, Partner, Barnes & Thornburg, LLP; Immediate Past President, Academy of Hospitality Attorneys
Thank you to the Horizon Convention Center for hosting the event and AMS Entertainment for providing A/V services.

ISAE is working with volunteers to develop a follow-up webinar for those who were unable to attend. Stay tuned for more information coming soon.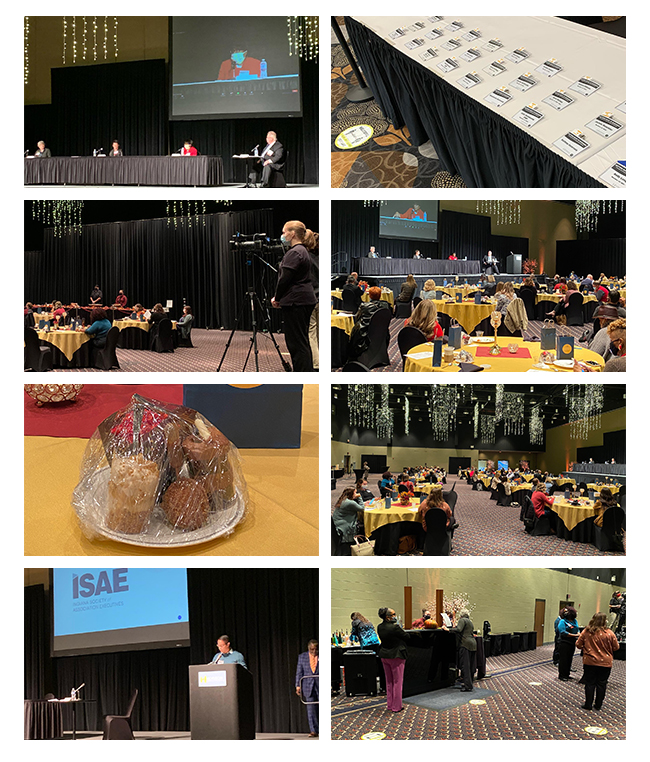 By Stu Kushner, CAE | ISAE Director of Communications & Membership
Share this post: