Auction Planning: 5 Steps to Master Pre-Event Preparation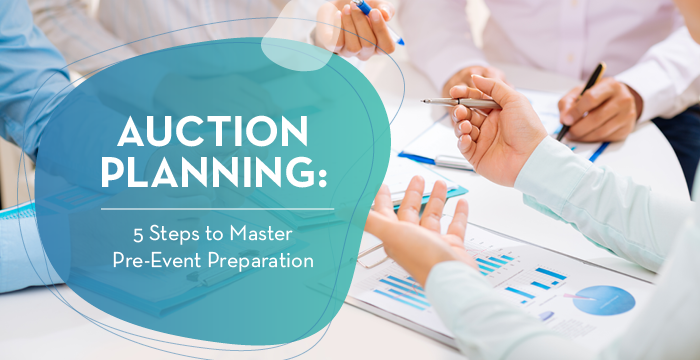 You're likely familiar with the planning chaos before the launch of an event: your team is scrambling to polish off details, items seem to be missing, and you're in the midst of trying last minute strategies to drive more registrations. The commotion before your big event can make even the seasoned fundraiser think that more advanced planning could save you trouble. 
Some events demand more planning than others. Auctions, for instance, have several logistical areas that need time, attention, and planning detail. With auctions, you'll need a strategy to keep planning organized and on schedule. 
In this guide, we'll explain how you can master the pre-event planning stage for your next auction. Here are the top steps to master your pre-event planning:
Determine your auction type. 

Plan your budget early.

Put together a team. 

Begin obtaining auction items. 

Market your auction. 
Following these steps, and assigning yourself deadlines to meet each of them, ensures you will stay on track to host a well-organized and successful auction. Let's get started!
1. Determine your auction type. 
When you hear the word "auction," you probably think of frantic bidding, high-ticket items, and outbid alerts. 
Before you get started with planning logistics for your event, you need to determine which type of auction you will host. The most popular choices include: 
Live: A live or in-person auction is the one you're most likely to think of. This auction type will take place in person and will require your audience members to bid in real time with paddles or digital tools. Your auctioneer will announce each item and determine the winner. 
Silent: Silent auctions take place on paper bid sheets or mobile bidding software. Your bidders can view your items and write down their offers, silently competing with other attendees for the items of their choice. This OneCause guide to silent auction rules can help you get started. 
Virtual: Do several of your association members live far away? If so, consider taking your auction virtual. You can host a live or silent auction on a virtual platform, but remember you'll have some additional technical considerations to manage!
Your auction type should align with what's best for your audience. For example, if your association gathering will be on the smaller side, consider hosting a live auction so everyone can be together. However, if your auction is a part of a larger event, such as a gala, then a silent auction is the best choice.
If you're unsure whether or not your attendees can come to the auction in-person, consider hosting a hybrid auction. In-person and virtual attendees can both participate and feel like part of the fun. However, remember hybrid events require a bit of extra planning! 
2. Plan your budget early. 
Once you determine your auction type, it's time to map out your budget. Setting your budget early in the planning process can help you set parameters and ensure you plan an auction within your means. 
When you sit down to set your budget, start by creating a rough outline of your auction components. Will you serve a meal? Host at a venue? Live-stream your event? Invite special guests? Knowing each step of the event can help you determine what you need to budget from start to finish. 
As you're planning your budget, it's also important to set fundraising goals. This helps you determine your target attendee numbers, how you price your auction items, and how much your overall event expenses. With a clear goal in mind from the start, you'll be able to adjust your budget if needed or know where you might need to put in more effort (such as boosting attendance, but more on that later!). 
3. Put together a team.
Team members can be volunteers, members of your staff, or both! Whoever you decide to bring on, be sure that they're involved early. This way, your team will feel like an integral part of the event and help you bring all the auction pieces together.
Here are the types of team members to recruit for your auction: 
Emcee: Your emcee, or the host of your auction, is responsible for getting the audience excited about the event, managing the event schedule, and ensuring everything runs smoothly.
Auctioneer: Your auctioneer is different from your emcee, as they will be responsible for actually auctioning off and transitioning between the items during a live auction event. However, if you're hosting a silent auction using paper bidding sheets or mobile bidding software, you likely won't need an auctioneer. 
Auction Leads: Item procurement, management, and delivery can be complicated, so you'll need a dedicated team to get started early. Consider bringing on a couple of people to manage items and ensure that they get to the right winners after the event. 
Volunteer coordinator: If you're hosting a large auction, you'll need extra hands on deck. Your dedicated volunteers are ready to help, but they'll need someone to go to for instructions or questions. That's where your volunteer coordinator comes in.
Although the types of team members you'll need will vary depending on your auction type, ensure that you have plenty of supportive team members to help you prepare. It's never a good idea to plan a major event on your own, so don't be afraid to ask for help! 
4. Start procuring auction items.
Now that you've determined the format for your auction and assembled your team, you can start procuring your auction items. Since these items will likely be the main pull for your attendees, select items that appeal to many different kinds of people. Diverse offerings increase your chances of reaching more people.
One way you can ensure that you have the right items for your audience is by creating attendee personas. An attendee persona is a representation of a specific type of person who is likely to attend your event. Build your personas using demographic information, such as age, location, and occupation, as well as other characteristics, like interests. With your attendee personas, you can pick an array of items that you think each persona would be interested in. Check out this OneCause auction item ideas list for some inspiration! 
Your auction is also a great opportunity to build relationships with local businesses. If you know a popular local business is looking to get more involved in the community, reach out to them about the auction and see if they would be interested in donating items or services. Whether or not they decide to donate, invite them to the auction to get to know your members and supporters. 
5. Market your auction.
Just as you should carefully plan every step of your auction, you should also design an effective marketing strategy to reach as many people as possible. To successfully market your auction, you should: 
Start early: While you're acquiring items, begin flushing out your marketing strategy. This way, once you're putting the finishing touches on the auction, you can start promoting your event. 
Preview items ahead of time: You spent all that time procuring your auction items for a reason! Advertise your most interesting or valuable items ahead of time so that attendees can see what they could win.
Use a multi-channel approach: As you put together your marketing materials, plan to share them across multiple marketing channels. This way, you can reach more people and ensure that your audience sees your advertisements in one way or another. For instance, consider advertising your auction on your association's website alongside a direct mail campaign. 
Tailoring your marketing materials to fit your attendee personas can be a very effective way to maximize attendance. Remember, the marketing materials that you use to interest young professionals will be different from the strategy you use for long-time association members. 
---
Auctions are an engaging way to connect with your members and supporters, but only if you've taken the proper steps to prepare. An organized event will convey your professionalism and commitment to creating a great experience for your audience, and following these steps can help you put on your best auction yet. Good luck! 
---
Karrie Wozniak
Karrie has spent more than a decade bringing innovative technology and fundraising strategies to the nonprofit industry. As one of the first executives at OneCause, Karrie combines her 20 years of experience in marketing with her passion for helping nonprofits expand their reach, leading industry research, marketing strategy, and fundraising consulting initiatives. She is also an active speaker on donor and fundraising trends, and has been featured on Forbes.com, Philanthropy Journal, and Nonprofit Hub.
Share this post: