The Indiana Society of Association Executives (ISAE) is excited to share our Annual Partnership & Event Sponsorship Opportunities for 2020. Please read on to explore how we can partner to mutually meet a mission of making stronger leaders who lead stronger associations!
Indiana is the home of hundreds of state and national associations, including professional and trade associations, philanthropic organizations, as well as fraternities and sororities. Through the support of partners and sponsors like you, ISAE strengthens the success of association professionals in Indiana and their associations through knowledge sharing, networking events, career building opportunities and more.
The offerings provide industry partners with the opportunity for year-round visibility to association professionals throughout the state of Indiana and their members, along with the ability to actively support the association industry and establish themselves as thought leaders. Whether you're interested in an annual partnership or event sponsorship, we have something for you!
For the purposes of this packet and program:
An ANNUAL PARTNER is defined as an organization that has a collaborative relationship with ISAE, whom we will work with to tailor opportunities throughout the year to maximize brand awareness, meet business goals and help position as thought leaders.
An EVENT SPONSOR provides support to ISAE on an event basis to help us follow through on member focused initiatives. In return, sponsors are connected to the membership with the goal of bringing in new customers and growing prospect networks. 
Partnership and Sponsorship opportunities are available at many price points so you can find the best fit for your marketing budget. Take time now to carefully review this array of opportunities to maximize your company's visibility in 2020! We look forward to assisting you in achieving your marketing goals.
Annual Partnership Levels and Benefits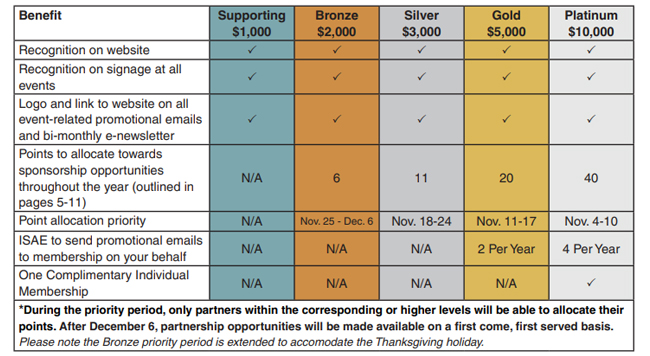 Contact ISAE Director of Membership Grant Carpenter at [email protected] to learn more and secure your partnership.