Sponsorship Opportunities
Partnership Opportunities
The Indiana Society of Association Executives (ISAE) is an association for association professionals. Just like the American Society of Association Executives (ASAE), ISAE provides educational and networking opportunities designed specifically for the needs of association executives and their staff, but on the state level.

Annual and Event-Specific Partnerships for 2018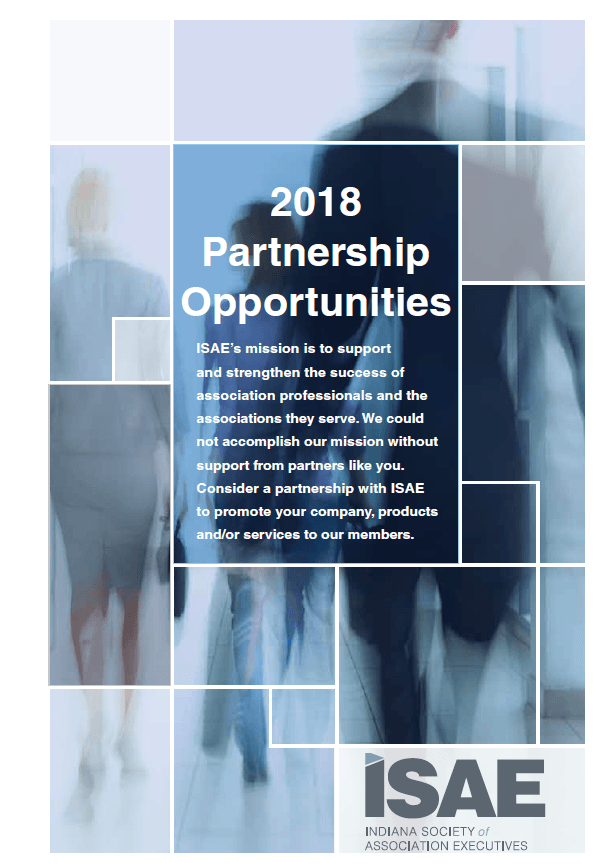 ISAE's membership represents a broad variety of professions, industries, societies and social organizations. Collectively, hundreds of thousands of members are represented throughout the state, country and world. All of these members use and need the services our suppliers provide.
Advertise in the ISAE Insider e-Newsletter
Advertising in ISAE's members only e-newsletter is an affordable way to reach hundreds of association professionals. With great rates and flexible scheduling, you can customize your ad schedule to promote your company just when you want. Contact [email protected] if you are interested in placing a digital ad in the ISAE Insider.
Want to run an ad in 2018?
Ad placement for one month of advertiser's choosing. Same artwork will run twice within the month.
$250 for one month (2 runs)
Receive 20% discount when placing three or more ads ($200 each)
300 x 250 px
Please provide in .jpg format
Please provide web address the web will link to
Advertise on the ISAE Website
Advertising on the ISAE website is a great way to reach member and non-member visitors and reinforce your marketing message. Review the ISAE Media Kit for your website advertising options.
For more information, please contact:
Jamie Williams
Media Director
(352) 333-3393 ext. 3393
[email protected]